After more than a decade's experience at three of Philadelphia's most-respected law firms, Adam C. Bonin formed his new practice in 2012.
Adam extensively represents clients in campaign finance, election law, pay-to-play, official ethics, and lobbying compliance matters and has been a leader in efforts on behalf of the rights of online speakers. In 2005-06, he led the fight and achieved a major victory before the Federal Election Commission on behalf of major political bloggers, securing significant new rights for speakers on the Internet to engage in online political speech and advocacy. He has been successful on both sides of ballot access battles, successfully representing candidates for office in defending their right to appear on the ballot as well as removing others from the ballot whose signatures had been procured fraudulently or unlawfully, and has successfully aided clients in post-election recounts and litigation as well, including winning two tied elections for local office.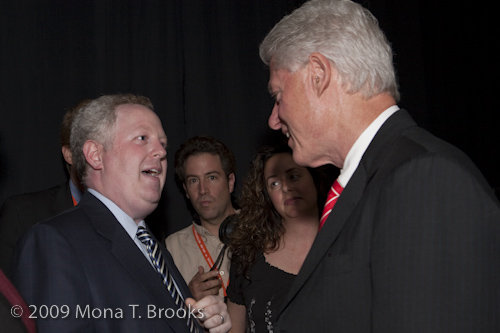 His practice today focuses on the representation of a variety of elected officials and candidates for office on the federal, statewide, and local levels, as well as corporate, labor, nonprofit, party entities, and other politically active entities on federal, state and municipal campaign finance, election law and regulatory compliance matters, including pay-to-play law and the regulation of lobbying activities. He has represented and continues to represent candidates for office ranging from President of the United States, United States Senator, and Governor to City Council and Township Commissioner.
In 2020, Adam served as lead Philadelphia counsel to the Biden-Harris campaign and coordinated the unprecedented Democratic voter protection efforts in the city. Both before the election and thereafter, Adam was heavily involved in federal and state litigation protecting Pennsylvanians' right to vote and defeating Republican efforts to disturb or delegitimize the election results, and led the team which monitored the Philadelphia vote canvass for weeks after Election Day.
In 2016, he served as lead Philadelphia county counsel to Hillary for America, and served as statewide counsel to the campaign for all recount matters. Adam served as county counsel for Tom Wolf for Governor in 2014 and 2018, and was lead Election Day counsel for all Philadelphia courtroom matters for both, and was deputy county counsel for Obama for America in the 2012 election.
In addition, Adam served on the Rules Committee for the 2012 Democratic National Convention, was Special Counsel to the Philadelphia DNC 2016 Host Committee, and served on the Credentials Committee for the 2020 Democratic National Convention.

His pro bono work includes advising the Democracy Law Project at the University of Pennsylvania Law School, where he helped initiate the nonpartisan Penn Votes Project to assist hospitalized voters at HUP/Penn Presbyterian in exercising their right to vote. For over twenty years, he has served as a volunteer judge for the John S. Bradway High School Mock Trial Competition, in which he competed during his own high school days.
The Associated Press, Washington Post, NPR, The Philadelphia Inquirer, Reuters, PoliticsPA, NBC10 Philadelphia, Vulture and other media outlets regularly call upon Adam to comment on election law and political issues, and he writes regularly on these issues as a featured writer for the front page of DailyKos, America's largest online political community. He regularly speaks at conferences and other major public events on these matters, including most recently gatherings hosted by Netroots Nation, The University of Chicago Law School, the Brennan Center for Justice, the Campaign for America's Future, the National LGBT Bar Association, and the Federalist Society for Law and Public Policy Studies.
Adam's prior work includes the representation of major insurance companies in a multibillion-dollar subrogation recovery lawsuit against the individuals, entities and nations involved in financing Al-Qaeda, seeking to hold them accountable for the September 11 tragedy. He has also represented clients in both federal and state jurisdictions in matters involving commercial litigation, products liability, antitrust, municipal finance, and first amendment litigation. He has also devoted a substantial percentage of his professional time to state and federal appellate practice.
Adam earned his bachelor of arts degree in political science, magna cum laude, from Amherst College in 1994. He earned his law degree from The University of Chicago Law School in 1997, where he served as comment editor of The University of Chicago Legal Forum and as an editor of The Law School Phoenix. While in law school, Adam was a student attorney at the Edwin F. Mandel Legal Aid Clinic, and studied election law under then-Professor Barack Obama.
Adam serves on the Board of Directors of Netroots Nation, for which he served as Chairman from 2008-14, a nonprofit organization which hosts an annual conference and regional events on the intersection between the online and political worlds. In 2019, he was appointed to the Leaders Council of the Legal Services Corporation, which helps raise public awareness across the country on the crisis in civil legal aid and the importance of providing equal access to our justice system to low income Americans.
He also serves as a board member of and counsel to the Garces Foundation, and serves on the board of the Jewish Social Policy Action Network (JSPAN). In addition, Adam has been a member of the board of advisors for The Green Bag, a widely-read legal journal, for its legal writing and almanac project.
His professional honors include being presented the 2018 Social Justice Award from by JSPAN for his work on behalf of pro-democracy causes, and a 2006 Lawyer on the Fast Track honor by American Lawyer Media. In addition, his history as an at-home chef and recipe for Duck Breasts with Five-Spice Glaze are featured in Man with a Pan: Culinary Adventures of Fathers Who Cook for their Families by New Yorker editor John Donohue (2011, Algonquin Books).
He is admitted to practice in Pennsylvania, before the Supreme Court of the United States, and all federal district courts within the Commonwealth.